Where Can You go and get "Branded like a Cow and be Owned" and it's considered redemption?
 Only on Kevin Costner show or movie set. being branded on Yellowstone is like getting a second chance or it means you are loyal to the John Dutton clan of the infamous Yellowstone television series starring Kevin Costner as a father grandfather pillar of the community enemy saint hero corrupt sexy generous with restrictions hoarding people and cows banging the governor and being commissioner of cows I would say is a complex character. He likes t
he brand criminals and somehow has the power it seems to do whatever he wants in Montana from owning this gigantic Ranch known as the Yellowstone Ranch period don't get it wrong with Yellowstone national Park I'm still watching the show but somehow it is its own ranch and I believe it's near Yellowstone however? If I'm wrong anywhere just let me know. It's real cowboys and Indians in modern day Montana where Land Ownership is the most important thing in the world above morals, right and wrong, and keep that land, even if you could get 500 million by compromising. Carry a gun and hold post. If they come on your land shoot um mentality. yet the constant struggle of trying to preserve Montana and it's Marlboro Man image
 As Kevin Costner is the real life Marlboro Man Kevin Coaster represents Montana in such a way that you want to go be branded and be a part of his semi cult like family of criminals, family members, politicians, horse trainers and be confused as to whether your dad want you to listen to him to get you to respect him or to do the opposite period try screwing up and watching season 1 and not noticing and then putting season 3 on and still thinking the same things are going on is Beth and rip were still together and the only thing I noticed was that Kevin Costner's daughter-in-law's hair was longer.and I wondered where did the stock guy come from who fishes and how is Beth ruining his life I'm like I must have fell asleep for a few minutes and still didn't notice I was in season three
When you consider the pain, you cause, the person's fault that's "evil", This comes from the highly acclaimed Amazon Prime Series ,"Show Yellowstone. Staring still sexy at 65 star Kevin Costner as a large ranch owner, who has a Ranch known as the Yellowstone Dutton Ranch. I'm in the first season, and it has stars like American Psycho Wes Bentley
Amazing Scenery in Montana 



This will show a little about filming it from the site is in the quote
"Yellowstone made its debut on Paramount Network in June 2018 and it is also available to watch on Amazon Instant Video in the US. The series follows John Dutton (played by Kevin Costner) and his family as they try to save their ranch from developers and other rivals. Fans are wondering whether Yellowstone is based on a true story, and Express.co.uk has everything you need to know.
Yellowstone has a believable plot as feuds between developers and landowners are a popular occurrance.

However, the character of John Dutton does not seem to be based on a real person, so it seems the concept is fictional.

Costner did reveal he researched American history related to the area in which the series is filmed, as he wanted to create his own back story.

The series was filmed at the Chief Joseph Ranch, which is a working ranch in Montana, so the setting itself is also real."



Staring in the backdrop of the beautiful Montana Wilderness, I believe bordering Yellowstone national park, this quote is from the Google Description for the show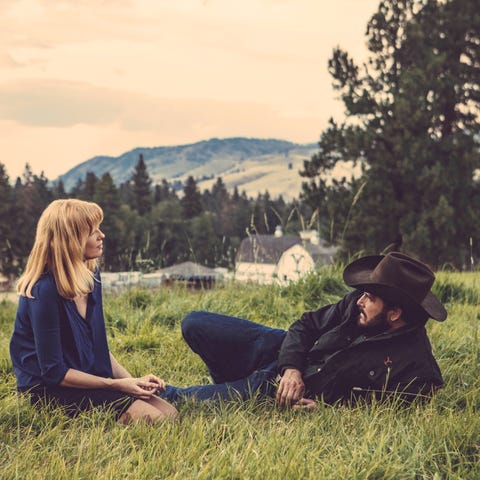 "Oscar and Emmy winner Kevin Costner is the marquee attraction of the ensemble cast in this drama series, starring as the patriarch of a powerful, complicated family of ranchers. A sixth-generation homesteader and devoted father, John Dutton controls the largest contiguous ranch in the United States. He operates in a corrupt world where politicians are compromised by influential oil and lumber corporations and land grabs make developers billions. Amid shifting alliances, unsolved murders, open wounds, and hard-earned respect, Dutton's property is in constant conflict with those it borders -- an expanding town, an Indian reservation, and America's first national park."
Source-https://g.co/kgs/Vxc76D